Ha – long post today but if you make it through, I'll explain the title at the end!
I've mentioned that Ruby is really well-behaved in public places around humans but that we're working on being calm around other animals. So if you're looking for four-legged traffic in Colorado, just hit a muddy trail!
Sure enough, we were only a few minutes out before we spied some horses in the distance.
We stood on the side of the trail and watched them approach.
Ruby was pretty calm as the first one passed by,
but she wanted to take off after the second one!
She recovered pretty quickly,
but no sooner had that excitement blown by, when along came the second act.
Good girl! She's not typically super-excited over the humans, but we still thought she might want to chase.
Next up was a runner with a dog. Again, she let the runner pass, but then she behaved exactly as we expected.
I didn't have to wait long for another runner and dog to come down the trail. This time, I put Ruby in a sit and had her focus on me before the other dog passed by.
Awesome job, Ruby! Possessing her focus and attention, even as she noticed the other dog, made all the difference.
We tried it again. (Kiva's on the left, the two dogs look similar.)
What a great job she did! So proud of her. This is a challenging lesson because even though I have the treats, Ruby can definitely see a benefit to chasing the other dog as he will usually respond and play.
Ruby not only held that sit while the dog passed by, but also afterward when we were chatting with the owner. Curiosity is healthy and I want her to feel comfortable around other dogs, so I rewarded her patience and gave her the "release" command so she could explore.
Learning how to control herself when she comes into contact with other animals is not going to happen overnight, it's going to take a lot of practice. But I was very happy with the progress she showed on this outing.
Here's Ruby later on, nice and calm as she watches the horses go by.
And in case you think her only challenges of the day were of the two-legged and four-legged variety, how 'bout we also throw in a set of wheels, just for fun?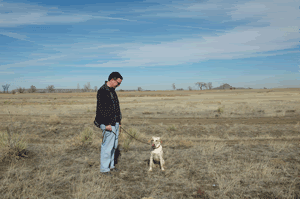 Hey, you made it through this long post! So about the title...
We noticed a woman watching us train Ruby near the horses, then she asked what we were doing. I mentioned that Ruby was a service puppy in training and demonstrated some of the commands Ruby knows.
The woman watched quietly. As she was walking off with her friend, we heard her say, "Wow. A Circus Puppy in training, I never saw that before, how cool!"